Roguelike is a word in gaming that usually makes my gag reflex go off. Supergiant on the other hand is usually a word in gaming that makes me jump for joy, so I figured the two things evened out and I would give the new Supergiant Roguelike a try. Hades has an absolutely gorgeous, hand drawn animation style, a fantastic soundtrack, and excellent voice acting. Pointing this out is just stating the obvious because these are things you've come to expect out of Supergiant games. What I'm more interested in talking about is what it does to separate itself from other games in the genre.
Hades revolves around Greek mythology, obviously it's kind of in the name. You play as Zagreus; the prince of the underworld and you are tasked with escaping Tartarus and joining the rest of the gods in Olympus. The core gameplay loop is similar to other games in the Roguelike genre. You get random abilities and procedurally generated rooms, the bosses remain the same and when you die, you lose the progress you've made up to that point and start over from the beginning of the game. Where Hades separates itself from other similar games is that in most Roguelikes, you get a randomly generated character at the start of each run and when you die, you lose the character and start with a new one. Hades has a similar core gameplay system, instead of losing the character when you die, you still play as Zagreus, but you have certain abilities and items that you keep from run to run. This takes a ton of the frustration out of the genre for me, because losing a run doesn't feel like pissing in the wind, but rather an experience you can learn from and continue to build on.
One thing that Supergiant Games always manages to do is merge the gameplay and story in their efforts in interesting ways. I think this is another huge part of why I really enjoy Hades in contrast to other Roguelikes. Yeah, it's frustrating losing a long run, but it's eased by the fact that you get to return home and see how things have changed. You get to have Hypnos snark at you as you emerge from the pool of Styx for the millionth time, optionally singing Mr. Roboto. You can go pet Cerberus, check in on Achilles, and get some consolation from Nyx after having Hades scold you yet again on your latest failed attempt. In fact, I would say the biggest reason I enjoy Hades over other comparable titles is that there's an insane amount of character in this game, which is very refreshing in a usually cold and scientific genre where everything is randomly generated. Every time you see a God in a run, you get a fully voiced line, usually treating Hades like the weird uncle that isn't allowed at family gatherings because every time he does show up, he gets drunk and starts ranting about white genocide. Every God has their own persona; Dionisius sounds slightly drunk and is very casual compared to the others, Aphrodite is super flirtatious and Hermes talks incredibly fast like he's seen a chatty friend at the supermarket while he's double parked. I enjoy just seeing what the characters have to say, and how they interact with Zagreus, it makes the core gameplay loop continually interesting, especially considering I didn't see one repeated voice line the entire time I played. Supergiant has achieved the tall task of making the gameplay grind of Roguelikes an integeral part of the story.
The actual gameplay is more or less fine. The combat is flashy, well animated and satisfying enough to keep things interesting, although it isn't particularly deep. You get a choice between going into different rooms and getting new items or abilities. The gods give you new skills, usually revolving around what they are the deities of. A lot of whether you succeed or fail still comes down to a generous amount of luck, and most of the abilities are kind of the same thing just with slightly changed elements, which leads to a huge disparity in the quality and usability of them. Yeah, Hermes giving you a 15% base speed boost is cool, but it's just objectively worse than say, that one Ares ability that leaves two spinning blades where you dashed that take up half the screen and stun-lock every enemy, or the Dionysus bomb power that does massive area of effect damage and slows down everything hit by it. And if you ever get one of thoses trial of the gods rooms, never go against Ares unless you have the Athena ability that deflects projectiles because he turns the game into a bullet hell shooter that you have zero chance of surviving. Despite how Hades tries to distract me from my distaste of Roguelikes, it's in these moments that I feel my annoyances with the genre starting to creep into the back of my head again.
The game is on PC and Switch, because how Supergiant doles out console exclusivity is predicated on how the butterfly of chaos theory decides to flap its wings the morning the title is announced. It's certainly the type of game that benefits from being on Switch because it's easy to pick up and jump back into, and the Switch being a handheld is made for games that can be played in quick 15 to 20-minute bursts. That being said, I often found myself playing for hours at a time because the core gameplay loop is quite engaging and addicting and that continual progression from run to run both from a narrative and a gameplay standpoint really entices you to keep trying to reach further and further into the game until finally you inevitably break through and finish your journey.
Hades is a fantastic Roguelike, and while fans of the genre might get high and mighty about how the gameplay is more "casualized" than its contemporaries, I don't care because I'd rather argue with a close proximity table saw entirely through shadow puppets than argue with the majority of gaming fandoms. Hades is a beautiful looking and sounding game that's bursting with personality and that is able to shake up the genre enough to make me genuinely enjoy it. Maybe next Supergiant games can make a cover shooter, because if they were able to make me enjoy a Roguelike, they can do absolutely no wrong in my eyes.
The Procession to Calvary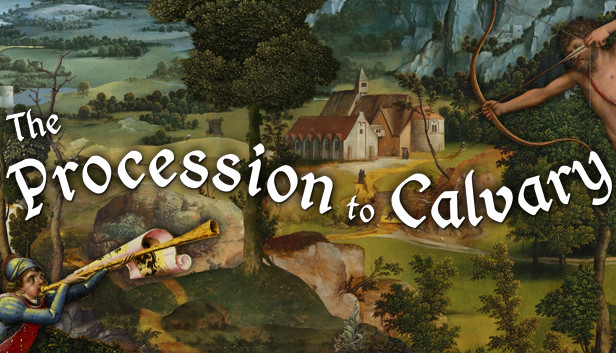 Another word, or rather, words in gaming that make me gag is Point and Click Adventure Game. If your Point and Click game isn't called The Secret of Monkey Island, Day of the Tentacle or Grim Fandango, then I don't want to be in the same postal code as it. This isn't the same case with Roguelikes where I am so much annoyed with the core gameplay as I just think that they're an overdone relic that has so much shit to its name that even the good stuff has been retroactively tainted, kind of how I imagine the few remaining self-aware Sonic fans must feel.
The Procession to Calvary is a Point and Click Adventure Game with a graphical style attempting to ape the animation of Terry Gilliam and old-school Monty Python. In fact, the entire game is basically a love letter to Monty Python and the Holy Grail. Now, I love Monty Python, but I imagine it is to the British the cultural equivalent of what Borat is to Kazakhstani people. I think Monty Python references are the default "British humor" setting for a lot of people. That being said, it succeeds greatly in achieving this goal of emulating both the animation and humoristic style of Monty Python and is probably the highlight of the game.
The story revolves around a knight in the Medieval era of England that most English people would probably rather everyone kind of forget about. You play as a female military officer who after a battle, wants to seek revenge on the attacking war party's leader and goes out on a journey to enact it. The black humor, slapstick comedy and visual gags, while obviously taking a huge inspiration from Monty Python's works, stands out on its own and genuinely makes the game a joy to play through. Point and Click games have always been more about the story and characters than the actual gameplay anyway, since let's be honest, they're all the fucking same. You walk around talking to everyone hoping that you can finally find the wavelength of logic that the designer had because all point and click game designers are all secretly getting kickbacks from IGN walkthroughs. But to be honest, I couldn't care any less about the gameplay because I genuinely enjoy the writing and characters, my favorite being the incompetent wizard that has no idea how to actually do magic.
I don't have that much to say about the game other than what I've already said, so unless you want me to review the Pieter Bruegel painting of the same name, this is going to be a very short review. Joe Richardson has crafted a fun and nostalgic game for people who are fans of dry humor and Monty Python style satire. The title is very short, as I beat it in about 3 hours. Games being that brief is something I used to complain a lot about when I was younger and more naïve, but considering the fact that basically every AAA game now is a 40 plus hour open world game that I can't be bothered to start, let alone actually finish, I find short games like this refreshing. It's only $10 on Steam as well, and it's worth every dollar you spend on it.
The Procession to Cavalry is a fun little indie game that is a must play if you enjoy British humor and satire. It doesn't wear out its welcome, and it's fleeting enough that you can play it when there is a down period in big releases. I would absolutely recommend the game as its one of the few video games to genuinely get laughs out of me because of actual jokes and not because of how stupid or over the top the characters are being. I can't believe I just did a double review of a Roguelike and a Point and Click game and greatly enjoyed both of them. Either the sun is about to burn out or 2020 truly is the most fucked up year in human history.